Australia 2005!
If you're bored with shots of our friends and their family, this page may not be for you. Though there are some lovely shots of the landscape and such around Geelong (pronounced J-LONG), Victoria in Australia. The principal reason we went for such a short time, 8 days including air-travel, was to see the godson, Patrick, his big brother Paul, and their parents; our very dear friends, Lesly and David Windle.
We left Chicago at 3:00pm on Halloween day, arrived in LAX 4 hours later (5:00 pm), waited until 11:20 pm and departed from there directly to Melbourne (pronounced MEL-BURN), Australia. 15 ½ hours later, we arrived at 9:00am November 2nd, took the bus to downtown, and then the train to Geelong. Lesly and Paul retrieved us there and we then proceeded to royally surprise David when he arrived home for lunch. After that, we walked, about a 5 minute slow walk, to Bill & Marge's place (David's parents), where I proceeded to surprise them quite thoroughly, as well.... It really is quite fun to be able to drop in and surprise friends like that. The only one allowed to know of our arrival was Lesly. She did enjoy the challenge of keeping a secret.
Russ's allergies absolutely went bonkers when we arrived. After suffering with Spring pollen fever (Remember, opposite side of the planet, opposite seasons) for a little bit, he went straight on the Zyrtec, which helped a lot but not completely. Russ hates tree pollen more than ever.
BTW, yes, the water spins counter-clockwise in the water drains down-under...
After 6 days in country, we departed at 11:20 am on the 8th of November, arriving back in LAX at 7:40 am on the same day. Yep, it is possible to time travel. Quite an odd feeling to arrive earlier than you departed. Then, off to Chicago and the drive home. We were absolute zombies when we got home, but very happy we made the journey.
Paul, David and Bill in Bill's back yard. Paul and Patrick are so shy around a camera.
Marge 'Nanny' and Patrick check on A bird in their tree. David's comfortable position...
the gold-fish.
Lesly in a lovely pose. Cricket anyone? The truck boy...
They both loved stealing my sun-glasses..... Cindy with her boys...
The gutters are required to drain Cindy with the kids again. Jeez it sure was windy that afternoon!
into holding tanks due to the very The statue next to them is called a Bollard. They're common around
limited water supply throughout the coast towns and such... There's actually a complete trail of these
Australia. Bollard art pieces throughout the Victoria Coastline.
The Geelong Carousel was awesomely restored. It was from the later 1800s shipped from New York.
The steam engine was the original source of power, and still functions! (They converted to electricity)
The music calliope was very cool, and also fully functional!

Off to drop Paul at day school! One teacher... Egg carton castle, almost complete.
The other teacher. Patrick stole them again.... Cindy sure loved all the roses...
Paul's new school, Kardinia, in January. Quite a 'swanky' school, much more so than Cindy or I was used to.
Uniforms are required throughout Victoria. Jackets, ties, etc... Notice the school lockers are outside.
Shows what the climate is like there, not too many worries about rain. Just a small roof overhang to
protect them...
Patrick didn't want to leave. The view of the Bay from the school. Cindy's favorite toy...
Magpie in a tree. Patrick hides in the locker... Paul's new uniform. Quite smart....
Wallaby and Emu at Paul's school. Patrick LOVED the wallaby. An awesome coast shot on a drive..
3 amazing shots of the coast. I love the way the sea breaking looked almost like broken glass...
Cockatoos and Magpie abound here. We stopped for a nice lunch and took some photos of us, the scenery
and such....
Cindy trying her Titanic pose.... Me and Paul hang at the park...
hubba hubba...
On the way to Erskine Falls....
Paul poses..... Check out the undertow of the Sea... At Erskin Falls....
Erskine Falls, Wow.............. Apple doesn't drop far from the tree...
The Falls were amazing! Lesly practices yoga on Rock position....
Russ loved the lack of pollen....
The data..... David not thrilled with Lesly walking
on fallen tree bridge......
The kangaroos. Yep, they are there. We saw these on a golf course on the way back from the falls.
Baby on Board.....
Griffo's '69 Bentley... Barbie at Debbie (David's sister) and Griffos' (in the cowboy hat).
They, Debbie and Griffo, invited us to their home for a barbecue, and the kangaroo is awesome, quite
dense, but also very tasty and low in both fat as well as cholesterol.
Not the most complementary photo, sorry Griffo..
Somehow, we didn't get a photo Griffo was a drover (cowboy) until he injured his back. Quite a fun character
of Debbie. Next year... to enjoy chatting with. He actually met Gregory Peck, great story to hear!
Lunch prior to the Halloween party. Not a big event (Halloween) in Australia....
Photos of the Halloween Party. Quite a nice get-together. Lesly in her actual wedding dress as a Princess.
The folks that arrived were quite impressed with the decorations, done by Cindy and David mostly, and the
motif. Russ slept through the decorating, the allergies finally got the best of him....
Lots of photos of the Geelong Botanic Gardens. Very nice. Apparently, Australia is VERY focused on their
botanic gardens and such. The one in Melbourne is right downtown, and apparently massive!
We'll have to see that next year.
Photos of the Ocean. Check out the undertow (dark color changes).
Paul on a mine. The girls have a chat. Best fish-n-chips ever. 'Flake'
known as Shark to the rest of us.
Nice little town of Queenscliff.
The 'ute', their version of a pick-up Lots of classic cars in awesome No winter or salt to contend with.
truck. shape.
Talk about competition. 2 churches next to one another, and a third Awesome restored home....
directly across the street! The town is Queenscliff, VIC.
Patrick and the anchor.... The pack-mules and their loads.
2 restored Austin Healey cars. Awesome clouds. Little show train...Part of a train
museum and club...
A little wine country near the ocean, and about 15 minutes from Belmont.
The girls and their roses. At a vineyard called Scottman's Hill. They were closed when we arrived, Drat...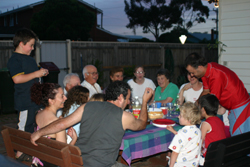 The John Deere dealership owned We were invited to a 'barbie' by new friends Joe and Laura....
by Griffo's brother, Tig. It was Joe's birthday...standing in the red shirt.....
Ready to blow them out... Cat watches disdainfully on Minah, Grace & their 2 lovely
the trampoline. daughters.
Patrick spins chien-chien.... Josh and Paul duel...with sticks My lovely bride.
His stuffed dog...
Dinner the night before we leave...