Australia 2006
Melbourne-Avalon and the Windles:
Sydney airport is not well planned. We arrived in Sydney and took a connecting JetStar flight to Melbourne Avalon. If you fly in on QANTAS, and fly out on JetStar (or any other carrier), odds are you'll need to go from one to another terminal, it depends on what your flight number is; if your flight number is less than 2000, stay in the QANTAS terminal, if higher, you must go to the 'other' terminal. This requires either a 30-40 minute walk (minimum) or a 5$AU per person bus ride. You got it, no tram or free shuttle from one terminal to the next here! Oh, and the bus only takes Australian Dollars. The nearest ATM was dead, and the currency exchange is ALWAYS a rip-off, so I found a second ATM that worked. The ATMs are not well signed and difficult to find.
We left ORD early in the morning on Friday September 22nd, arriving in AVV about noon Sunday September 24th. It was rainy, cold, and quite overcast when we landed, but a few hours later it was sunny and absolutely lovely out!
Some folks aren't interested in the climate of a trip, but I find it useful for myself to remember the weather conditions.
Sunday, September 24th, 2006 low/high temp: 5-17C (41 - 63F)
low/high humidity: 29-94 %
Monday, September 25th, 2006 low/high temp: 2-14C (36 - 57F)
low/high humidity: 27-87 %
Tuesday, September 26th, 2006 low/high temp: 3-21C (37 - 69F)
low/high humidity: 21-81 %
Wednesday, September 27th, 2006 low/high temp: 4-22C (39 - 71F)
low/high humidity: 19-87 %
Thursday, September 28th, 2006 low/high temp: 1-17C (34 - 62F)
low/high humidity: 36-93 %
Friday, September 29th, 2006 low/high temp: 3-18C (37 - 64F)
low/high humidity: 38-87 %
Saturday, September 30th, 2006 low/high temp: 5-16C (42 - 60F)
low/high humidity: 37-93 %
Sunday, October 1st, 2006 low/high temp: 1-28C (34 - 82F)
low/high humidity: 10-93 %
Monday, October 2nd, 2006 low/high temp: 7-18C (44 - 64F)
low/high humidity: 41-93 %
This page you're viewing is basically photos of us arriving, staying at Lesly & David's new home in Manifold Heights, Victoria and the general vicinity.

Part of the Grand Canyon. Approaching the coast of Oz. Here's the Sydney runway, right next to the bay.

Cindy, Lesly and Paul take a walk and check out the houses and more importantly, the gardens. They do keep
up the lawns and gardens here! It's serious business, but the homes are absolutely lovely.

The boys start their first fire! Lesly is amused by the action. The sun on the front deck porch.
Patrick chants 'Trois Amigos'!
'Three Amigos' in French, his new
favorite movie...

Cindy and the kids dance, sort of. Patrick watches the action. The chefs at work!

Lesly does have a passion for her gardens! Patrick the climber...

The front entry hall. Living room fireplace. Living room rosette and chandelier.

Kitchen/Dining room. Main bathroom. Back sitting area.

Back laundry/toilet area. Master Bedroom. Lovely stained glass windows!

Front entry area. Quaint front porch. Little fish pond and fountain.

Front stone garden. Far back yard. Crowded near back garden.
David really wants to clear this out
and let in the sunlight!

View of the back of the house. Paul on the walkway garden. Was Danielle in Australia, too?

Above are some of the existing flowers Lesly 'inherited' from the previous owners!


Above, these are a popular form of plant, called a Staghorn Fern, which is classified as an epiphyte.
(A plant that grows on another plant, which it depends on for mechanical support, but not for nutrients like a parasite.)

Geelong Eastern Beach, the Paul & Patrick play with Paul hitches a ride.
fountain wasn't on, but looked Grace & Jessie, good friends.
ready to go!

Patrick hates the camera... Paul the stunt man! Paul and his best buddy Thomas.

The shark-proof walkway and The steps viewed from the walkway. Palm trees....
swimming enclosure at the park.

Lesly loves parks... Patrick, yikes... Sack of potatoes Patrick...

David's parents, Bill and Marge. Friends and family of the birthday girl, Allanah...

More friends/family Allanah, the birthday girl on the left. Peter and Dee, amazing hosts!

Patrick hangs out with Uncle Griffo And then finds it more comfy with
(Peter II). cousin Sarah...

We get the boys energized well past their bed-time. Mostly Cindy... A good shot of Paul...

Lovely Lesly. David in a jocular moment. Soldier Paul...Yep, my old uniform...
Those dimples <sigh>. Nope, we didn't even spike the tea. Yikes, I can't fit in it now! I tried....

Patrick on the train to the Queen Victoria Market, a large market in Melbourne. Great night-life too, we were told.

Everything you could want to We enjoy a nice organic lunch, Cindy and the boys listen to the
wear or eat was there. vegetarian too! band and wave back...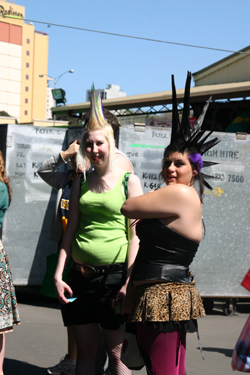 Nice Oz girls... Patrick leaving the Vic Market. A nice shot on the bay.

Shots of a local shopping mall, quite open and airy. A touch of Victorian class set out front, as well...

The boys play soldier.
David and Lesly had a nice little house-warming the weekend after we arrived. It was great fun to see these folks again, and get to know them in a more relaxed and outdoor setting. The weather was fabulous most of the day. It did rain a short bit, but quickly passed.


In the back yard chatting. Dee and Allanah relax. Another angle of the back yard.

Patrick LOVES shades. Josh and Allanah. Lovely Helen waits for a refill.

Lots of laughs were had by everyone there.

Paul found these under a tree at the park, they're apparently the seed
pod of a native tree, but I've no idea which one or what the name is.
Pretty cool free toy, though.

A mural we saw in Geelong. City municipal building.

Photos of The Geelong Gallery, art museum. Very nice, and free, Gallery. We left a donation after we visited, as usual...

Above and below are the gardens behind the Art Gallery as well as the Municipal building.
Very lovely, and well maintained.

This is Griffith's Book Store in Geelong. It used to be owner by David's in-laws. We went in, and found it to be a wonderful little book store downtown. I was honestly, and quite pleasantly, surprised to find two copies of Condottiere A Knight's Tale by Edward John Crockett. He happens to be the author whom we met earlier this year in Bretagne, France in a small village called La Roche Bernard.

Paul and me... Paul and Cindy... My lovely bride and me...

Lesly reads from a new book. Cindy SLOWLY wakes Patrick... Paul checks on the 'chooks'.

Patrick with the daily 5 eggs. Paul made 'masks' for him and Patrick at school...

At Bill/Marge's before dinner. The table is set! Should've named him Curly!
nyuk nyuk...

A 'rare' photo op. Crazy girls and kid... The girls chat in the kitchen..