Southern France & Barcelona 2007
On Valentines Day, I took my wife to the South of France.
As we only had one week of vacation, we decided to go and visit our friends that live in the South of France and Barcelona this trip. Our friends in France welcomed us, as always, with gracious open arms as though we were family. They recently moved from the town of Aspet to the nearby Village of Landorthe. I have to admit that the view of the mountains is spectacular, though I sure did love the short (5 to 10 minute) walk to the center of town for a beverage at the local pub.

We arrived on the 767 parked in the left photo (you can see the Air France A320 winglet on the bottom right corner of the photo), and then, while taxiing Cindy noticed the Concorde SST static display. It almost looks like it's taking off!

Looking out the window of our room at chez Boué are the lovely Pyrenees Mountains, and the one prominent peak, focused on in the right photo, is Cajir. Those who have seen previous pages will recognize this peak. Someday, we'll hike that one, it's about 4-5 hour hike up. While not too long, our current schedule didn't provide time for that.

There's our window. Victoire. and her friend, Claire.

Victoire and her cat... The front steps restored.

Several photos of our current room, roomy, very clean, and lots of photos of family and friends.
House shopping in Hurau:
Friends of the Boué's, Maurice & Chantal, were down for the week, and they went house/property shopping. We readily went along, as Cindy and I are seriously considering looking for something small over there ourselves. Something in the 2 bedroom 1&1/2 + bath size. As most come with only 1 bath and a second water closet, we'd certainly have to modify the existing floor plan. They were looking for a larger place, perhaps with more investment potential than Cindy and I would want. These properties were in VERY rough shape. Many floors were completely gone down to the joists, electric was bare wire and exposed, and the plumbing, well I'll not go into that. The clay tile roofs were in generally poor condition...

It was an old hotel. Very steep lawn and gardens. Tile roof as seen from below.

Attic, seen from main level. 2 levels exposed, garage below Steep but scenic garden.
joists, and more unfinished rooms.

I have to admit, the view out the back was pretty nice, as the 3 photos above show...

The park view from another Nice old church...
property.

For some reason, the movie Young Frankenstein comes to mind...

Another view of the park area, and the church at the other end. Very pretty. The peak, Le pic du Midi de Bigorre, in the right photo actually has an observatory on it, though we didn't get the opportunity to see it closer this trip.

Some scenic photos that morning that I thought were particularly nice.
Razecuiellé:
For those that haven't seen the other pages, this is the primary location of the B&B for our friends, Jean-Louis & Danielle Boué. We ALWAYS love staying up here. The view is amazing, and the place is simply warm and cozy and relaxing.

Cajir with the sun setting. A townsman does a controlled The spring water font and basin.
burn to clear some brush.

There's the 'gite' or B&B. Cindy at the renovated back The newly expanded upper deck.
area.

The view toward the town of Milhas. I just like this sign.

I love this fireplace backing of hand hammered iron.
I keep forgetting to ask Jean-Louis where the depicted Chateau is.
Ski Lodge:
Years ago, the Boué family (Pascal, Danielle, Evelyne & Joélle, I think) went in and bought a small lodge at the top of the mountain at a ski resort. I was hoping to see some snow, and perhaps get a bit of skiing in. Unfortunately, they got even less snow that we got in Chicago this year. Maybe next time.

While near impossible to see here, (The large stones covered with moss) there once was a Roman stone bridge across here, and when they restored the bridge years ago, it collapsed in the next torrential rainfall. After that, they just put a little historical marker there.

Nothing too fancy, just a place That's the lift, barely any snow! No snow, and the patio is empty...
to eat and sleep between runs.
Lots of beds and such...

Very pretty view, though.
Market Day in Saint-Girons:
We went along to the market, and the view in the little town was great. Lovely Garrone river, and a nice church, too!

They recently restored the bridge. Colorful music shoppe. The Garrone river.

A couple shots of the Garrone from the bridge. My beloved loves it here.

The Garrone from different views, and I like the little split under the bridge.
We saw folks picnicking there when we were leaving. Nice view and sound of the rushing water.

Awesome church, though much smaller on the inside than it appears. The Church of Saint-Girons (L'église de Saint-Girons) was apparently built in the 1500s, but I'll find more about it later.

Here's a small part of the market. We would have bought more This ceiling was in a book store!
but we were flying to Spain and not directly home.

Some shots I took while we were driving to and from different areas. I plan on stopping at some of these on future visits.

Three shots of the mountains that I particularly liked.
A typical meal at the Boué house:
Honestly, there is little I look forward to more in the South of France than a meal at the Boué house! Besides the fact that Danielle, her family and her friends, are wonderful cooks, there is always lively conversation and laughter!
It was a bit confusing for me, because there were three women all named Monique that visited during the week. they identify them as small (petite), medium (midi) and tall (grande) Monique.

Before, one must have a 'light drink' (aperitif) or two to prepare for the meal.

I had to take multiple shots to give a better idea of the decorations and normal number of folks at a meal there!

Grandma, 'Mamie' in her favorite chair reading the 'People Magazine' of France...

The front corner with the girls The lower patio and The upper patio.
watching the work. sloping yard.

Two chandeliers, Cindy really loved the on the right! I always think of Lesly when I see
painting. Maurice said that the artist
was his wife's instructor in secondary school!

Always something on the stove! I LOVE THIS coffee machine! Chantal shows Victoire & Monique
Always ready, and fresh! some crafts.

Three views out the living room windows of the countryside.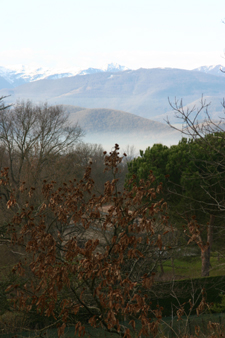 And another three scenic photos that I really liked.
Abbey Cistercian of Bonnefont (L'Abbaye Cistercienne de Bonnefont)
The ruins of this ancient abbey are actually quite well preserved. Especially considering the land was sold by the church, and prior to sale, the church sold much of the building materials. Weather didn't ruin this site, finances did. It was originally built in 1136 by the Cistercians, a contemplative monastic order founded by French reformist Benedictines in 1098. I'm still looking for more detailed information. Most information I've found is in French, and I'm working on translating it.

I liked this sign. "Beware of falling stones" & "Walk only in the marked areas"

Information on other Abbeys and explanations of construction. A scale model of what was here.

An artists rendition of the Abbey. Stained glass window made for reconstruction efforts.

Examples of the materials used and found on site. I was amazed that some of the
statues survived at all!

The interior of the main abbey. An example of the style. It it quite impressive in there!

The fountain in the courtyard from different angles. In the middle photo, you can see the original entrance tower, and in the right photo, the old cloister area ruins.

I was amazed this church warrior depiction is outside!
I think it was a coffin top (a sarcophagus lid) at one time, not sure though.
It appeared to be a woman with a large sword, I'm guessing Joan of Arc...

The left photo is the entrance tower. The other two show the original baptismal font.

Standing at the warrior, photos in opposite directions, abbey and actual entrance road.

Looking from the abbey fountain to the warrior and the entrance tower.
Artisan Cheese Maker (Fromagerie)

This artisan cheese maker invited us in to taste the cheeses he makes in small batches.
His speech was a bit too fast and deep toned for me to catch it all, but he certainly knew how to make our friends laugh.
The cheeses we sampled were awesome!

Fresh rounds were cut and sampled, to the delight of all. He made some very good sales that day.

Had we been flying directly back from France, we would have bought at least one round to bring back.

6 week aged = 11 € There's his work area. See below for the explanation.
reserved 6 week = 11.50 €
3 month aged = 12.50 €
On the right photo: "Une Femme, Ça Va... Deux Femmes, Bonjour Les Dégâts"
Simply translated on the rolling pin, "One Wife/woman, no problem, two wives/women, hello injury (or pain)"

This guy had lots of cool tooling and such laying around waiting I liked this view of the church on
to be worked on. the hill.
Construction at chez Boué

Cement bricks arrive, and considering the length of the truck and the tight turns and slopes on the driveway, this guy REALLY knew how to handle the truck.

They're building a walk out patio on the 'back' of the house. Jean-Louis and his friend André.

I volunteered to help, so my job was to load the tractor with stone and bring it over to the work area.
Of course, Cindy conveniently 'neglected' to take any photos of me working <G>...

Just finishing the foundation for the patio area. Yep, that's all slate to be re-used!
Dinner at Chez Evelyne & Jérôme:
Evelyne & Jerome recently finished construction on their new home, in a tiny little village named Aucamville. The best way to find it is to look for the large Chateau of Sainte Elix and follow the road around to their house. We didn't drive by with good lighting, or I would have taken a couple photos. Next time we hope to take a tour, but their schedule is very subject to change.
Here's a photo of the Chateau of Sainte Elix that I found on-line.


Evelyne in her new kitchen! Wow, we won't hit our head on the vent here!
In their old home, the vent was much lower and we ALL hit it at least once.

A proper table. Pre-dinner drinks (Aperitif). The race is on!

A wider angle of the area. Cindy finds a hookah! Hector is ready to EAT!!!

Happy birthday Victoire! L to R: Roxanne, Victoire, Just me with a glass enjoying the
'grande' Monique, Shervan & dynamics at the table.
Alain (Roxanne & he are
Alain' s grandchildren, and hers
by marriage).

Jérôme & Evelyne Jérôme's parents; 'grande' Monique & Alain
Dany et Christiane

Maurice & Chantal Jean-Louis & Danielle André Nouret & 'midi' Monique

Stéphanie & Guillaume Mammie A very happy photo.
Chez Stéphanie:
Stéphanie and Guillaume bought a big 2 story + house that resembles a farm house. Lots of old wood, great living space, multiple bathrooms. Even a nice little garage.

Stéphanie gives us the tour. Great kitchen with a fireplace! Very cool ceiling beams, too.

She's very space conscious. One of the upstairs play rooms, this one has VERY tight stairs and
behind the wood mesh is the out of doors. Will be great when finished.

Obviously, Stéphanie has a sense of humor. Barbed wired in-laid toilet seat makes you think twice.

Hector in the living room.
He's a happy kid!

Regular: €4.58=$5.99/gallon
Premium: €4.50=$5.89/gallon
Diesel: €3.90=$5.11/gallon
Propane: €3.32=$4.35/gallon
On February 15th, the Euro to Dollar conversion was about U.S. $1.31 = €1
Hmm, Diesel is cheaper there, like it SHOULD BE! Unlike here!
Fuel is still quite expensive there, though. Most of Europe pays much more for fuel than we do here.
The next page is Barcelona, Spain. Click below.