Australia & Tasmania in 2009!
Well, we're once again off to Australia to see Lesly, David, Paul and Patrick. We've made this trek a few times in the past, and this one has a few firsts.
We're going to experience the newest jumbo airliner on the planet, the Airbus A380 double deck wide body airplane.
We're also going to travel to a new destination while there, to Tasmania.
This will also mark the first time that Russ has ever not been with his family on Easter Sunday.

The day before we left for Oz, here was the scene in the morning at our house...
One last time to use the big snow thrower before we leave!!! Russ was so despondent...[NOT!]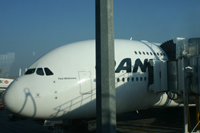 Our first sighting of the elusive Airbus A380, our ride to Oz!
You are seeing correctly, there are two levels of passenger windows!

As you can see, the boys weren't happy to see us, and were so reserved...
The evening we arrived, Lesly was still on a camping trip for her school. We were invited by Lisa Althorpe so we decided to go out for pizza just down the road, and were looking forward to seeing Ainslie again.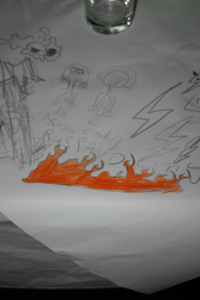 Ainslie, she warmed up The lovely Lisa Althorpe. Paul drawing flames, plus a
to Russ after a little while. My photo doesn't do welcome to Russ & Cindy...
her justice...

Russ brings a gift to the family, a Chess set. Unbeknownst to him, both Paul and Patrick have signed up for Chess club. With a simple book of all the moves, I start to explain the basics to Paul and Lesly. David listens in the background as a refresher.

Paul studies the Board. Patrick does not... I just like this photo

Just a pretty smile...

The neighbors really do have a spectacular front garden of flowers.

Yep, the boys are in swimming lessons. Here's Paul.


Lesly, Cindy and Russ take a walk between boys lessons to enjoy a light midday snack and coffee...
The nature walk was absolutely full of birds and lovely views.


What was my time?? He's not having any fun... Ready to jump?!?!?!


Can anyone remember the old game Mousetrap? Patrick's looking just like the old man in it!

Lesly finds a cavity on Paul...
That dot by the floss is a crater in his tooth!!!
Here's where we were off to the races!
Tasmania here we come!
We're now back from Tasmania, and it's soon to be Easter...

The boys all go to the local park to run off a little energy, and give the girls a little quieter time...

Fairy Park: You didn't really expect Russ to go did you?
Nah, David and Russ stayed at home for a bit of quiet and relaxation.

Who won???

Uh oh, Lesly bought two bunnies!
Jack and Sophie...
You should have seen the look on David's face...
Priceless....
It is Easter morning and the tradition of finding the Easter baskets at Russ's parents house, and biting off the ears of everyone else's chocolate bunnies has faded away...
The Easter Bunny has made a trail outside of chocolate Easter eggs and carrots at David and Lesly's home. The boys found where the Easter Bunny arrived onto the property, sneaking under the front gate, and then traveled around the front and back yards, dropping chocolate as he went. He finally left over the back fence.

Yes, those are the solid chocolate eggs in colored foil they're finding!
Sophie and Jack.

Lesly smiles on... Free bunny! Patrick sets up the water bottle...

David screens in a hole The boys with their new pets. Don't ask me which rabbit is which...
under the fence, just Paul isn't really holding that tight, we checked to make sure...
in case...

Enough with the bunnies already! Cindy LOVED this surprise!
Building a better Bunny home...
Lesly asked Russ to help build a cage. He looked at their available wood, and figured the frame could be made quite well with their scraps, but the screen and netting needed to be bought new. Yikes, building supplies are pricey in Oz!

Here's the process, which we did in small steps, a little each day.
Paul was quite happy to be using his tools and David was quite pleased with the result...


Flowers in the gardens chez Lesly & David


The boys play with the flying frog toys at the table...
We, meaning all but David, went to Point Lonsdale for a little beach time. We've been here twice before, but each time the Fish & Chips take away restaurant was closed. This time, they were open! Cindy, once again, had to have fish & chips. She gets a bit nutty when it comes to fish & chips...

The four beach adventurers, obviously without Russ. He's not much of a beach person...

A few shots of the beach area. This will all be under water in a few hours...

Found a little critter, a hermit crab in a safe haven. He was in the rocks when we left...

Lesly really is a water and beach girl.
She never smiles that broadly unless she's on the beach somewhere!
That's one big ship behind them!


Lots of spray on what are called the 'Heads' or the Barwon Heads, access point to Melbourne Harbor..

Point Lonsdale pier and Lighthouse.

The water started to get more active...

Shade = Russ = Book I like this microbus! Our source for AWESOME
Fish & Chips!!!

Two scenes of the tide/surf hitting the break wall. That morning, we were on that beach...


Don't know why, but I like this shot...

Back home, fizzy the tiger is in action around the house...
He really needs a new fizzy outfit that fits that growing issue!

The evening before we left, Bill and Marge came by for tea, but unfortunately couldn't stay for raclette....
We certainly missed them!

Lesly and Marge prep paper bedding for the bunnies...
It was supposed to get a bit chilly that night...
These are really weird kids. For some reason, they once again begged to be tied up with duct tape. Of course, Russ was not willing to disappoint them by saying no. what sort of Godfather would that be?

Two boys and duct tape, very strange happenings...

It obvious we really cannot find a way to connect with these two boys...

Well, it's time for them to hit the rack for the evening.

My girl...
The next morning, off to Melbourne airport for the ride home, once again on the Airbus A380.
A bit of confusion on QANTAS as it was quite hectic there, but all was sorted out without any major problems.