Hawaii 2009!
We've been very lucky with our friends, and where they've been so that we can leech off of their lodgings.
Our long-time friend Joseph, who graduated from the American Airlines Flight Academy with Cindy, was house sitting outside of Hilo Hawaii this winter and invited us to visit. We finally coordinated all of our schedules and away we went.
We started out with a layover in Los Angeles. Because of flight schedules and passenger loads, we flew out on February 24th, and spent the afternoon and evening in Los Angeles. I booked a room at the Hotel Custom, near the airport. Very modern and VERY clean.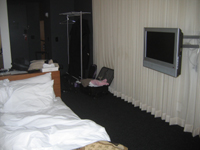 The hotel Custom near LAX, just don't try to change in the hotel lobby restroom, yikes were they dark!
We found that out when we arrived earlier than anticipated and our room wasn't ready yet.

We had dinner at this little Crepes, anyone? I didn't notice the Jalapeno Crepe, or
Mexican cantina, and were I would have had to try it. Simple butter and sugar, thanks...
amazed at the quality!
Cindy wanted to see downtown Los Angeles, and since a tour bus was little more than a taxi ride, we took the tour bus from our hotel to some spots around town. We stopped at Universal Studios, interesting, but WAY too commercial for me and next was Mann's Chinese Theater, very interesting and lots of fun finding some of the stars on the walk of fame. I'm glad we took the tour bus, as traffic was, apparently typical, bumper to bumper most of the way.

Oil wells at dusk. The Hollywood sign... Famous hotdog stand.
Above the left corner of the
big 1-800-GET-SLIM billboard.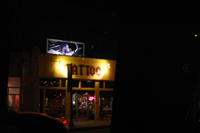 Traffic in L.A. Tattoo shop from television There's the Boulevard...

Yep, it's real... We stopped by Universal Studios on the tour bus. A bit too
'commercial' for me, but amusing nonetheless...

All stores and diners. Cindy and fountains... Another view of the walkway.

We found this interesting, it's skydiving, without the airplane. There's a high-powered
fan below, and they are lifted by the fan and can do acrobatics. Very cool...

Clint Eastwood Cary Grant Frank Sinatra

Mann's Chinese theater, where all those stars and cement hand/foot prints are located...

Paul Newman and Joanne Woodward! Yep, I met him!! Roy Rogers and Trigger, too!
Good story goes with meeting him.

A tribute to Star Trek, that everyone signed. Very cool. Didn't find all the cast members stars, though...

Gene Autry had a special plaque with his star.
He is the only person to have been honored in all 5 categories:
Radio, Motion Picture, Recording, Television and Live Performance..

Just a few that we both liked...
(Yep, too lazy to turn them for you...)

Another fountain that we stopped to enjoy and take a few photos of.
Can't remember the name of the fountain, though...

Yep, he's here, too...
Leaving Los Angeles for Hawaii:
Now we're off to Hawaii the next morning! We flew from Los Angeles (LAX) to Honolulu airport (HNL), and then on to Hilo (ITO) airport on the big Island on Mesa Airlines. We were a bit behind schedule due to headwinds and missed our planned connection, but Joseph handled the changes and such with grace and whisked us to their abode for dinner and drinks.

First sighting of Hawaii. Breakfast anyone? Yikes, I didn't sleep well...

Some pretty photos from the window of Honolulu.

Control tower and Cindy took shots of this approach and landing...
military aircraft...

Ugly, ain't it...

Weird to watch wind surfers from our aircraft... The water looks nice!
The home they are watching and maintaining for the Winter:
We arrived at Hilo airport and Joseph met us with lei's. Afterward, home to meet the lovely bride and enjoy a nice light meal. As we were hours later than anticipated, we didn't do much that evening other than eat, drink and be merry, then off to sleep.
The next morning, Joseph and Helena went to a gardening class in town, so Cindy and I were left on our own. We slowly got up, made Kona coffee, and then took a brisk walk around the neighborhood. About 2 miles, I guess...

Coffee is my friend. What the, a Puppy! Cindy loved the paint job!
Lily 'Pad' the wiener dog...

Cute little gecko (not Geico) on the back deck. Off and walking. Very nice gardens and homes.

This side of the island is VERY lush. They get LOTS of water. So much that there is no municipal water service. Each house has a large
water tank that captures rainwater from the roofs and stores it in a LARGE tank behind the house to use for all home water needs.
After it's filtered a couple times, it's ready to use.

The vegetation was really quite lovely, this is called Ti.
Ahalanui Hot Pond:
That same morning, after Joseph and Helena returned, off we went to the hot pond. It's a naturally occurring pond near the ocean that is thermally heated by the volcano. The water isn't completely salt-water, but a mixture so it's more brackish. Cindy absolutely LOVED the hot pond, as it was very warm and no waves.

I did swim a bit, but was actually more interested in taking photos of the pond and the surrounding landscape.
Can you tell Cindy didn't enjoy the swim?


This is the Ocean just outside the hot pond.
Quite a big difference from the calm hot pond, and really beautiful.


I loved the root system on these trees, extra support from the winds here.
Several names for this tree exist: The Hala tree (latin=Pandanus) or Screw Pine...

I just liked this photo...
Dan DeLuz's Wood Shop:

I like the wood Island Here's an assortment of the wood working project finished and for sale.
on the ceiling gable... Quite impressive craftsmanship!

Breadfruit wood Portuguese Cyprus Coconut Nice work here!

A Tiki in progress.. Interesting plant, called an
Angel Wing begonia.

We stopped at the Akatsuka Orchid Gardens in Volcano, and the variety was absolutely amazing. Great sky today, too!
Click here for the page with all the photos of the Volcano. I made a separate page to reduce load time. We literally took hundreds of photos, and I've tried to cull it down to some of the more interesting shots.
Kilauea Iki Crater. We're at the Pu'u Pua'i Overlook...
There are two types of Lava, A'a (ah-ah) and Pahoehoe (Pah-hoy-hoy).
(I learned the secret to pronouncing Hawaiian is to always pronounce every vowel.)

Here's the vent in the caldera, called the Halema'uma'u, constantly waiting to erupt again...

Our tour guides point out the important things to The two types of lava
remember, but I forgot. Cute, ain't she! Pahoehoe = smooth, sagging and continuous
A'a = rocky, craggy, brittle and more rock-like...

Joseph Joseph and Cindy Me and my girl Joseph and Helena
Hey, why didn't we get one of me and Helena?!?!?!?!?!?!

You can see the girls really A bit breezy, to say the In the is back Mauna Loa Road closed from due to sulfur dioxide
didn't like each other... least emissions from the March 2008 Halema'uma'u
eruption.

We all stopped to enjoy the beauty of the vegetation quite often, and get a bit A nice stone carving of.
of an explanation, too. It's Ohia Lehua and the blossoms are Lehua. Madame Pele, fire goddess...
It's the first plant to emerge from the fresh lava.

Joseph tried talking me Yes, I bought Cindy a CitroŽn deux-chevaux!
into buying this Hawaiian necklace, she loves it.
boat that's a cribbage It's a prized Niihau shell lei
board made out of that must be strung in Hawaii by native Hawaiians.
Koa wood. Very Expensive!
Kipuka Puaulu Walking Path also known and Bird Park (lots of song birds).
(Kipuka is an 'island' of older lava surrounded by younger lava, usually the older lava is on higher ground and covered with rich lava ash)

Ready to walk! Nice sky. Chicken Dense forest area.

Tall tree is Koa, very prized and it has little leaves! Shepherds cane, called Shown by the lovely guide..
Hapu'u fern.

What's up there??? Well maintained trails. Yep, she's zany, too... What's in there???
That's a giant tree fern!

The girls chat a bit... Helena finds her favorite tree and must be taken, now, near her favorite tree. Joseph obliges her..

We did a lot of looking up at the birds and such... Cindy loved the tree trunks... Helena the tour guide, showing.
the green Ti plant. Culturally
important for food, clothing
and ceremony.

Lots of very interesting tree formations in Hawaii. End of the trail, that's the damage done by the 'vog'
They grow in bizarre directions. which is the 'volcanic fog'...
Town of Hilo:

Cindy & Rainbows... That's a Monkey-Pod tree.. It was breezy and cool...

Surf's up, dude at the locals Cold, but they were happy surfing
only surf spot, Honoli'i... at Onomea Bay

I liked these three photos of the little bay area there...

Monkey Pod in a VERY organized and neat cemetery...

Just because I liked these two photos...

Here's the market in Hilo, awesome food here!! Lots of crafts and such as well.. Lois, I liked this mug and thought
you might like the design, too...

We sat in this park area, called Coconut Island, and had The sea was very active, though no one spotted any whales...
lunch, and a couple drinks.

Me and churches... Great little craft shop off
the beaten path.

Good view... They look good together! Travelers Palm up there Sealing Wax (taller) and
that looks like a fan. Rhapis Palm plants...

Not a busy day in Hilo...

Dinner was at an amazing restaurant, named Miyo's. The lagoon provided a lovely background...
Local Maku'u Market:

Here's the local, and I mean LOCAL market. Weekly flea market is what we would call it, with produce...

Cindy and shave ice...
(local name for snow cone...)

This is a little park next to the market area. Really is quite pretty. I only learned that pineapples weren't grown
from trees in Tahiti...
Driving to the Lava Village of Kalapana

Our driver... They ain't kidding with the A roadside shrine... I liked the tree tunnel...
road sign...

Love those roots...

Pretty amazing canopy of trees over the road here on our way to Kalapana.

Some more photos I just simply liked...

In the distance, the The old lava flow... Walkway on the lava flow. Madame Pele a bit closer...
volcano 'plume'.

The two lovebirds... Walking on the 'new beach' as the old one was devastated and
covered with 75 feet of fresh lava in 1991...

It's amazing how Mother Nature can come back.
OK, with help sometimes.
Those fronds that folks bring out are coconuts (from coco palms) that have sprouted. The old beach was considered one of the most pristine black sand beaches in the world and was lined with thousands of coco palms. After the devastation, a local woman started to plant the new trees, in hopes that someday (hundreds of years maybe) there will be a pristine coconut lined beach again and it seems to be working!

Just some ocean view from the forming beach. Very beautiful...

Some shots of us on the edge of the last lava flow where the lava is already turning to sand.

Great Photo!

More evidence of the That's the village that Helena, and the rest of us, I know, don't get your own
plants returning. actually survived the drink kava, at Uncle Roberts shadow, but it's the only
last flow by the lava kava bar in Kaimu decent shot of this church
going around it! that was actually saved by
being moved during the lava flow!

Bunny with a flower... Dinner our last evening.
Ahi Tuna!!!
Time to go home

<sigh> time to leave Hilo for Honolulu and then LAX Those are telescopes (observatories) on top of the
and after that home to O'Hare... Mauna Kea! Next trip we hope to go there...

Bye bye Big Island...

Submarine heading into Here's our ride!
port at Honolulu.

Above and below are shots of the garden in the middle of Honolulu airport. It really is a nice place to escape the hustle and bustle...

Us in the big kid seats relaxing a bit... Our Air Force ready for action...

Last view of the Islands...
Since our visit, Joseph and his radiantly lovely bride Helena, have bought an acre in the same community we stayed in and they hope to start building their home this Autumn. I expect we'll be visiting Hawaii from time to time to enjoy their hospitality. It's a tough job, but someone has to do it!